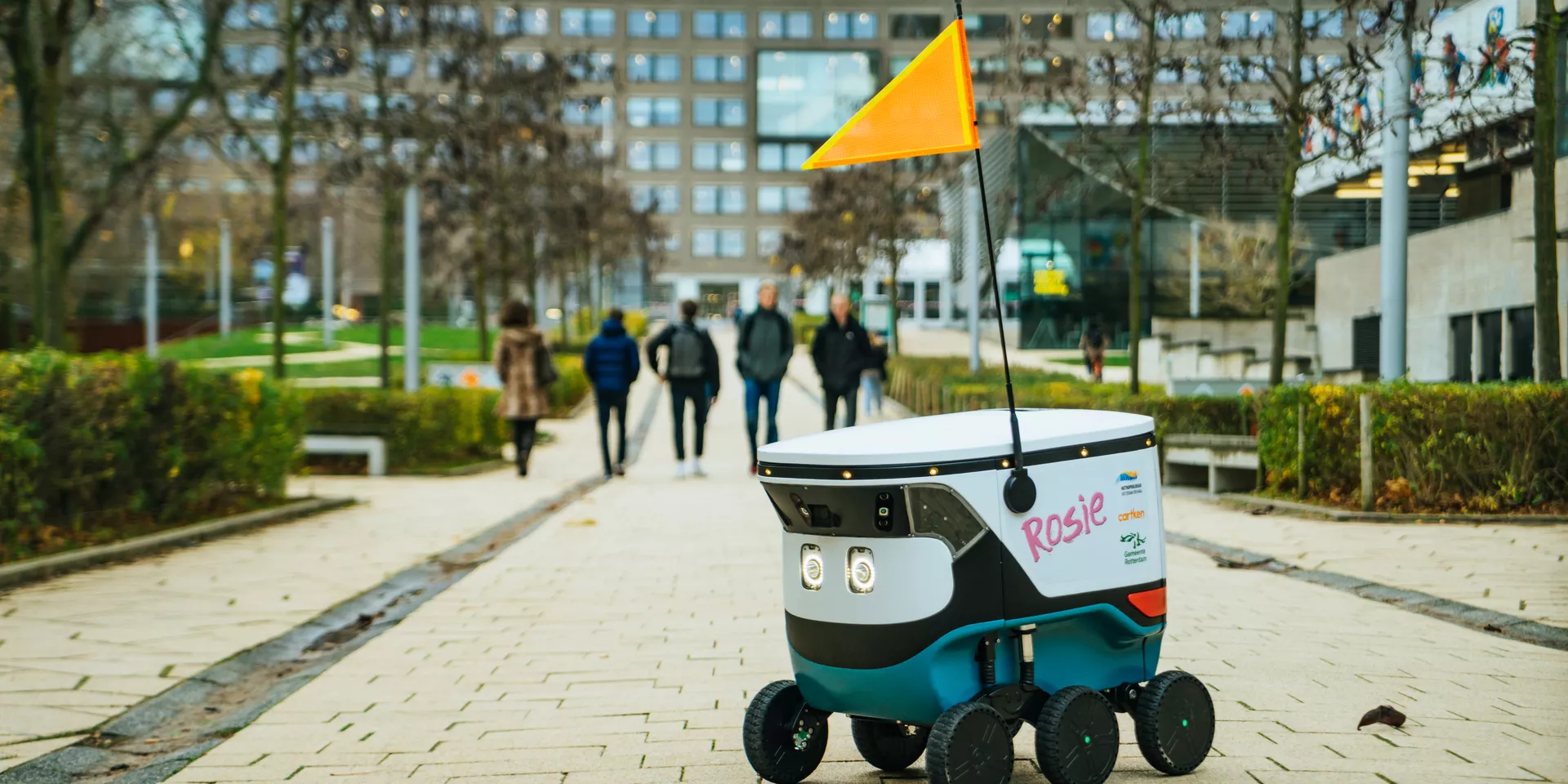 Introduction
Research at Erasmus University Rotterdam (EUR) has traditionally focused on social and behavioural sciences and humanities in terms of disciplines. Since the Erasmus Medical Centre (MC) has been affiliated with the university, its focus has broadened to include life and health sciences.
At EUR, research meets a number of conditions. The research is excellent, we connect scientific disciplines, and we conduct interdisciplinary research. The latter is what EUR does to solve complex social issues. We involve stakeholders at an early stage of proposed research.
Part of the learning process is an evaluation of the impact and influence of the research Several faculties conduct project impact assessments. This contributes to development of an impact evaluation framework that in turn fits the impact-driven university that is EUR. Research at EUR and Erasmus MC is strongly anchored internationally.
Current issues
Collaboration with Rotterdam
The partnership between the City of Rotterdam and EUR existed for ten years in 2021 and will be renewed in 2022. In 2021, the collaboration was evaluated at the instructions of the City of Rotterdam and Erasmus University. This led to a reflection on the Rotterdam knowledge infrastructure that has emerged over the past decade. The research was conducted by the project 'Evaluating Societal Impact' and was supervised by an external advisory committee led by Prof. Job Cohen. The report 'Inspired limit work limited proximity' elaborates on concepts and themes that provide input for thinking and learning about collaborating with civil-society parties. In addition, the concluding themes are intended to strengthen the organisation and interpretation of the current Rotterdam knowledge infrastructure.
The Rotterdam knowledge infrastructure demonstrated its significance in bringing together science and practice during the COVID-19 crisis in 2021. In March, the workshop Knowledge and Corona took place on the impact of COVID-19 on the city of Rotterdam.
A large number of EUR researchers exchanged knowledge with municipal partners. Together, they reflected on the consequences and significance of the COVID-19 crisis for Rotterdam and Rotterdam policy. The audience consisted of over four hundred participants, mostly policy officials as scholars.
The City of Rotterdam asked the collaborative projects for advice in the autumn of 2021 in preparation for the new academic year. From each person's area of expertise, recommendations were written about the key future developments in Rotterdam. These opinions are compiled in the publication 'Words to inspire action', with a foreword by Prof. Arwin van Buuren, Academic Lead Evaluating Societal Impact. The advice in the bundle was used in the substantive preparation and drafting of the internal, official document, Advice Next College (AVC), which is intended for the new College of B&W.
Impact
EUR organises and designs research for impact. It is important to listen to society to become better scholars and ask better questions. From the very beginning, this requires working based on co-creation and collaboration across disciplines and sectors. This takes time and energy, because it requires investing in long-term relationships with societal stakeholders. Many EUR staff already use co-creative methods, such as living labs or action research, often within an interdisciplinary framework such as the Erasmus initiatives and convergence. This engagement with society is also evident in the examples, later in this chapter. To take our impact to the next level, we move from ideas and recommendations to implementation, where we create the conditions for excellent research with societal impact.
Below, we have outlined some examples of how EUR works to create conditions for excellent research with social significance.
Design Impact Transition (DIT)
The Design Impact Transition (DIT)platform launched in 2021 to encourage collaboration and engagement. DIT brings together academics, students, non-academic staff and external stakeholders around complex societal challenges. Together, they contribute more effectively to addressing complex societal challenges.
Recognition & Appreciation
Many early career researchers are taking the lead in social impact by engaging stakeholders and embedding impact into their research process. At the same time, there is a need for a modernised system for recognising and valuing academic staff for impact work. This includes creating career pathways with a focus on social impact, recognising impact competencies and activities, creating skills training and developing a new remuneration structure. In 2021, the EUR Frameworkfor Recognition and Appreciation was published, describing how academic staff working on impact are recognised and appreciated.
Impact evaluation of partnership EUR and the City
EUR is a learning organisation. Lessons from evaluations are part of a continuous improvement cycle. Collaborative processes and so-called productive interactions are central to social impact. But what makes collaboration between scholars, scientists, policymakers, professionals, politicians and citizens successful in practice? An answer can be found in the long-term knowledge collaboration between the City of Rotterdam and EUR. In 2021, the project Evaluating Societal Impactconducted extensive research. The general lessons to be learned are summarised and address how these partnerships are organised to generate impact. In this annual report, this collaboration is described in more detail in the 'Current events' section, and great examples are included from this collaboration, such as 'Attention to sexual street harassment remains necessary' and 'How to strengthen multiple democracy at the district level in Rotterdam?'
Erasmus Initiatives
Vital Cities and Citizens (VCC)
VCC has launched three interdisciplinary research projects My City Rotterdam, Re-mapping the cityand Nairobi-hub for frugal innovation. The first two are aimed at collecting data on the challenges faced by different groups in Rotterdam, the latter examines the challenges faced by residents of Nairobi and the innovative and resilient coping mechanisms applied in that context.
VCC has additionally created three cross-theme post-doc positions to foster interdisciplinary research and to advance our knowledge with respect to newly emerging challenges in urban areas, such as resilience and diversity, sustainability combined with smart solutions, and a healthy living environment.
In addition, VCC has launched a new call for post-doc projects: 'Open Door Call'. This call is open to all faculties of EUR, including Erasmus MC.
Social impact is the spearhead of VCC. In the above-mentioned research projects 'My City Rotterdam and Re-mapping the city',the collection, analysis and interpretation of data is conducted together with the inhabitants of Rotterdam, NGOs and local initiatives from the Rotterdam community. This allows for a much better understanding from different perspectives about the challenges of Rotterdammers. Solutions are found together with them.
Smarter Choices for Better Health (SCBH)
Against the backdrop of another year in which the need to make smart choices with regard to health and healthcare became painfully clear worldwide, the Erasmus Smarter Choices for Better Health (SCBH) Initiative continued its activities with great enthusiasm. On the one hand, this involved the continuation of projects of a multi-year nature, such as field experiments relating to prevention or the development of a more complete tool to determine the added value of specific health care services. On the other hand, there were shorter projects inspired by the COVID-19 crisis. Examples include determining the health harms of delaying care, developing an algorithm for the best sequence to clear the backlogs of that delayed care, and determining the distribution of socio-economic harms from government interventions across the population. Indeed, although measures such as the lockdowns are intended to protect the health of all, their social (including psychological) cost is far from evenly distributed among Dutch citizens. Most projects were and are carried out together with external partners, both within and outside academia and both in the Netherlands and abroad.
SCBH made some changes to the structure of the Erasmus Initiativeand prepared for the second phase of research projects, which will run until the end of 2025. The primary method of implementing the changes was to use the recommendations made by an external review committee in late 2020. Personal experiences were also used. The four original research themes remained, but their cohesion was magnified. Ties with external parties will be strengthened in the coming years. Prof. Hans van Kippersluis became the new scientific director of SCBH, succeeding Prof. Werner Brouwer.
Dynamics of Inclusive Prosperity (DolP)
Despite the physical constraints caused by the COVID crisis, the Dynamics of Inclusive Prosperity (DolP) succeeded in strengthening mutual contacts in 2021, expanding the network of international contacts and organising several meetings that contributed to the visibility of the Erasmus Initiativeand EUR as a whole.
An example of the expansion of external contacts is the further development of the international cooperation project on more inclusive waste management. This project, Towards Inclusive Circular Economy: Transnational Network for Wise-waste Cities (IWWC),was funded in part by NWO. Led by DolP, the project is conducted together with TU Delft and PBL and various Chinese parties. The scope of IWWC has been expanded and additional post-docs are being recruited. TU Delft was already involved in the 'The Circular Road' project. This is about sustainable development of road infrastructure. It was designed and implemented with road builders. The cooperation with the contractors contributes to the adoption of the results of the IWWC project in a sector that is very important to both the Netherlands and China. Obviously, this also contributes to the strategic convergence between Erasmus MC, TU Delft and EUR that the three institutions are aiming for.
On 19 March Negar Noori became the first DolP PhD student to defend her thesis on making Smart City projects more inclusive. She continued her work for DolP as a post-doc and is now working with several Dutch municipalities to implement the recommendations from her dissertation. Furthermore, several DolP researchers were involved in the Tinbergen Year activities, which culminated in the presentation of the intellectual biography of Jan Tinbergen, by Erwin Dekker. On 12 November, DolP scientific director prof. dr. Martin de Jong delivered his inaugural address on the theme Inclusive Capitalism. Despite limitation of the number of people present in the auditorium, it had a huge impact. Shortly thereafter, on 25 November DolP and external partners held the conference 'A Call for Courageous Leadership', in which the need for transformational leadership was highlighted from various perspectives. EUR professors from various faculties made contributions, as did prominent figures from home and abroad. Among them Oxford Professor Colin Maier and Paul Polman, former CEO of Unilever. Throughout the year, blogs and other online communications formed for a continuous dialogue with the community on current issues related to inclusion.
Based on the assumption that the constraints of the COVID crisis are largely behind us, the dynamics of DolP are expected to manifest increasingly in the coming years.
Societal Impact of Ai (Ai Pact)
In 2021, the fourth Erasmus Initiative 'Societal Impact of Ai' (AiPact)was launched. Prof. Moniek Buijzen and Prof. Gerrit Schipper are leading the initiative. They were responsible for administrative, academic and social implementation. AiPact is included in the Erasmus Centre of Data Analytics at RSM and has connections with all faculties of the Convergence partners. By the fall of 2021, a team of seven top young talents from a variety of disciplinary backgrounds has been assembled to explore the social impact of Al in areas such as health, work communication and art.
AiPact was involved in several applications for research funding, including NWO Gravity Health & Technology flagshipproposals for which decision-making is ongoing. Also, in the meantime ELSA Lab and Trustfund Grants were awarded and three already ongoing NWO and ERC projects have been added to AiPact.
The public launch of the intersectional project AICON combines the power of art, science and society. It is expected to lead to Al-for good. The progress of AiPact can be followed on the EUR website and Linkedln @Erasmus AiPact.
Erasmus Research Services (ERS)
Erasmus Research Services (ERS) is a relatively young department within EUR. Since ERS was launched on 1 January 2020, the portfolio of services has been steadily developed and expanded. ERS promotes excellent research and knowledge transfer to maximise positive societal impact and creates the conditions for transparent, inclusive, collaborative and high-impact research through strategic and operational expertise.
ERS supports talents in their development and fosters fruitful partnerships. The following areas of expertise are embedded within the department:
Business Development & Knowledge Transfer
Grant Support(including EU liaison)
Legal Counsel
Open Science
Research Data Management
Ethics Review
Research Intelligence
This combination of research services within a single department is unique in the Netherlands.
Research Intelligence
Research Intelligence (Rl) collects information on scientific activities within ERS, including research, teaching, leadership, impact, and knowledge transfer. Rl also generates insights about the strategies and goals of the organisational unit. Furthermore, Rl explores connections within and across research areas through strategic and creative use of information sources. The insights gained and different perspectives guide informed decision-making within EUR and promote interdisciplinary research, collaboration, open and responsible scholarship, and talent management.
In 2021, the Research Intelligence Advisorwas involved in the strategic projects Evaluating Societal Impact, Reward and Recognition and Open and Responsible Science. The consultant was active for these and other EUR-wide relevant projects. Examples include:
substantiating grant proposals;
visualisation of research activities and performance within the Convergence processes;
proposing alternative frameworks and measurement methods appropriate to open and responsible research practices; and
monitoring the sustainable development goals.
Grants/subsidies
The Grants Support Teamwithin Erasmus Research Services offers specialised support for acting as the coordinator of the 'major research initiatives'. The team applies for research grants with a broad interdisciplinary scope, a high budget, and a large number of partners. Examples include the coordinatorship of Horizon Europe, NWO-ORC and Gravity.
Coordinatorship of Enablement Programme
In 2021, the first pilot phase of the Coordinatorship Enablement Programme (CEP) was launched and implemented. This new programme helps researchers with ambitions to coordinate a major research initiative. This is based on a development budget of € 20,000 and an ERS team consisting of one business developer and a grant advisor. The development budget allows for buying time to focus on the application, bringing in international partners for a writing day or developing a proof-of-conceptto enhance the application. The grant advisorand business developer do not serve as advisors. Instead, they are partners in the process providing hands-on support from start to finish.
The CEP lowers the threshold for taking up coordinatorship and increases the quality of the application and thus the success rates.
In the CEP pilot round of 2021, seven applications for major research initiatives supported with researchers from ESSB, ESHCC, ESHPM, EsPhit RSM, ESL, and ISS. In an anonymous satisfaction survey, the researchers involved gave an average of 4 stars on a scale of 5 to the support they received in the pilot. At 43%, the success rate was above the European average.
Gravity
In addition to the applications supported by the CEP, a Gravity application led by Prof. Eveline Crone was submitted in 2021. The results will be announced in 2022.
Project Control and Project Management
In 2021, EUR-wide work started on improving project control and project management to support second and third money flow ambitions. Led by Corporate Planning & Control, with input from ERS and with budget from the strategic line 'Stepping Up Professional Services', a project was started to map the existing and desired processes. This includes the use of new digital tools.
Research Funding Days
ERS held the henceforth biennial event Research Funding Daysfor the first time in January. Over three days, managers, support professionals and the academic community were able to attend various lectures, workshops, strategy and inspiration sessions. From practical skills (such as writing a grant proposal) to high-level strategy sessions in which the challenges and opportunities within the European and Dutch research agendas were discussed.
Business development & knowledge transfer
In 2021, the Business Development team in ERS was further reinforced to five business developers. They support EUR in achieving maximum social (and economic) impact with our research. Both internally and externally, they create and maintain networks, make valuable connections, support pathways, and promote collaboration among researchers and of researchers with public and private institutions. This support allows researchers to focus more on their research projects.
Some of the initiatives and research projects that the ERS business developerswere able to contribute to in 2021:
SPRING
Societal Progress & Resilience for healthy Individuals and Generations (SPRING)is a part of Resilient Delta. It focuses on sustainable health gains through a healthier social and physical environment and more resilient residents of Rotterdam Zuid. SPRING started eight pilots in the reporting year. In their trans-disciplinary approach, scholars work with businesses and community partners to find synergy and mutual understanding to solve such complex problems together.
ROBUST LTP
EUR is participating in ROBUST LTP. This project focuses on the five core dimensions (accuracy, reliability, repeatability, resilience and security) of artificial intelligence (Al). The ROBUST consortium received € 95 million for ten years of public-private research. Within the consortium, which is coordinated by Maarten de Rijke (UvA/ICAl), a total of 54 partners are involved: 21 knowledge institutions, as well as 23 industrial partners and 10 community organisations. EUR participates in two labs at Erasmus MC. For example, together with Philips, EUR is leading the lab on reliable Al support for patient journeys. The second lab is about AI4MRI to develop reliable and accurate Al models with GE Healthcare.
Open & Responsible Science (ORS)
The Open & Responsible Science Programme(ORS) provides vision and direction, and creates an action plan to connect the values of ORS (quality, efficiency, impact and the trust in science) with EUR's mission and its research goals. The programme stems from Strategy24 and is consistent with other strategic programmes.
In 2021, Prof. Pursey Heugens was appointed as academic leadof the ORS programme. The goal in this new phase is to initiate a broader culture and behaviour change, based on building awareness and developing vision. By rolling out an EUR-wide survey, ORS aims to gain insight into the current status. In addition, bi-annual campaigns have been launched, such as the October Datafest. This was done in close cooperation with the University Library and Erasmus Research Institute of Management (ERIM). There was also the campaign of data steward Anna Volkova for Erasmus School for Health, Policy and Management,intended to make researchers aware of the possibilities around open research practices. Finally, ambassadors from each faculty (including Erasmus MC) with very different epistemic backgrounds were recruited to set the scope of ORS for EUR. This group of ambassadors, along with many internal stakeholders, were closely involved in preparing the academic lead'sarticulated response to the NPOS consultation round.
A key goal of the ORS programme is to align the expertise required to properly support open and responsible research practices with Open Science, Research Data Management and Ethical Review. In addition to ORS's specific activities, these fields of expertise have also been further developed.
Open Science
ERS coordinates the Open Science Community Rotterdam (OSCR),a bottom-up learning community for researchers and support staff. OSCR is part of the International Network of Open Science & Scholarship Communities (INOSC). Twelve Dutch Universities and other institutions around the world are affiliates of the network. ERS involvement includes compiling and maintaining the INOSC Starter Kit and co-authoring an influential position paper cited in the NPOS 2030 Ambition Document.
ERS provides tailored support for individual researchers, research groups and schools, for example in the area of study preparation, open science statements in grant proposals, and open science commitmentin academic job advertisements. This has resulted in holding over fifty information sessions and workshops at almost all EUR schools to date, contributions made to educational offerings at EGSH, and assisting more than fifty researchers with almost one hundred applications.
ERS started with ERIM in 2021 to develop a large-scale online course on Open Science for academic and support staff.
Research Data Management (RDM)
In 2021, the Board of Trustees gave the go-ahead for funding the EUR programme 'Next level RDM support'. This programme focuses on four pillars: dedicated support for researchers, aligned policy and organisation, effective infrastructure services, and research data management awareness and training. Furthermore, the Research Data Management (RDM) policy of Erasmus University Rotterdam (EUR) has become effective on 1 January 2021. This policy sets out details of the roles and responsibilities for the University's duties of care and translates the commitment to the FAIR principles(Findable, Accessible, Interoperable and Reusable) into concrete action.
In 2021, the focus was on Pillar 1, dedicated support for researchers. A team of data stewards provides information, advice, training and support to researchers from all EUR faculties. This is based on close collaboration with faculty support, Erasmus Research Services colleagues, the University Library, and Erasmus Digitisation & Information Services (EDIS). An organisational and knowledge database has been established for sharing and developing best practices, new training materials and general RDM information by EUR Digital Competence Centre.
Furthermore, a large number of data management plans (DMPs) are reviewed as part of the ethics approval process.
The RDM team was involved in EUR-wide roll-out of the Erasmus Data Repository for publishing data. The team is working on a secure platform for streaming and encrypting sensitive video data. The collaborative project, in co-creation with research groups, is working to develop a platform to support FAIR data throughout the life cycle of a research project.
Finally, the RDM team evaluated and developed training for graduate schoolsand ORS campaigns. For example, a Data Carpentry course was developed and organised in cooperation with TU Delft and Leiden University.
Ethical review
As at 1 January 2021, the policy 'Principles and Regulations on the Ethical Review of Research at Erasmus University Rotterdam' applies. From then on, all researchers working at EUR or at a BV that falls under EUR Holding will have access to an ethics review committee. For a number of topics in the study, going through ethical review prior to the start of the study is mandatory. Researchers increasingly know how to find the ethical review committees. In 2021, 378 research projects were reviewed compared to 225 in the previous year.
Providing information to research participants is an important element within the ethical review process. A collaboration with the privacy office and investigators led to several documents that assist investigators in this process. These include an information brochure, a standard template, icons for use in the templates and good practices. In addition, training for members of the ethical review committees was organised in 2021.
Scientific integrity
Policy
In 2021, the roadmap established in 2019 for the implementation of the new Scientific Integrity Code was further rolled out. The most important milestone was preparing and adopting a general EUR code of integrity within which the various aspects of integrity are set out in conjunction. The integrity code links back into the 'Erasmian values' that are also central to Strategy24.
The new Scientific Integrity Code deals extensively with EUR's duty of care. One aspect of the duty of care is to ensure a research culture in which researchers feel sufficiently comfortable discussing questions, problems, and dilemmas with each other and with their managers or research leaders. Because EUR believes it is important for scholars young and old to be able to discuss dilemmas in an open and safe environment, the revamped Dilemma
Game app was launched in 2020. The Council of Europe rewarded EUR's efforts to facilitate talking about scientific integrity by electing the 'Dilemma App' as the best 'best practice' in the field of scientific integrity.
Scientific Integrity Committee
In 2021, the Scientific Integrity Committee will be completely revamped. As advised by the KNAW, the committee was assigned an external Chair.
In 2021, no complaints were filed with the CWI and all pending complaints have been settled.
Promotions and doctoral policies
A total of 360 promotions took place in 2021. Exactly two thirds of this number were achieved in Erasmus MC. This is in line with the distribution of the total number of PhD students associated with EUR and Erasmus MC. The total number of promotions is nearly equal to the long-term average. There were eighteen cum laude promotions, which means that the proportion of cum laude compared to 2020 decreased slightly to 5%. In 2021, one candidate was promoted within the PhD student experiment. There was no dropout of candidates. The total number of active doctoral students is 13.
Promotions
table 4.1
| | | | | | | | | |
| --- | --- | --- | --- | --- | --- | --- | --- | --- |
| Faculty | Total | male total | male non CL | male CL | female total | female non CL | female CL | CL Total |
| Erasmus MC | 240 | 95 | 89 | 6 | 145 | 141 | 4 | 10 |
| ESE | 12 | 6 | 4 | 2 | 6 | 5 | 1 | 3 |
| ESHCC | 11 | 6 | 5 | 1 | 5 | 5 | 0 | 1 |
| ESHPM | 17 | 3 | 3 | 0 | 14 | 14 | 0 | 0 |
| ESL | 20 | 12 | 12 | 0 | 8 | 7 | 1 | 1 |
| ESPhil | 7 | 6 | 6 | 0 | 1 | 1 | 0 | 0 |
| ESSB | 22 | 8 | 8 | 0 | 14 | 14 | 0 | 0 |
| ISS | 12 | 4 | 4 | 0 | 8 | 7 | 1 | 1 |
| RSM | 19 | 14 | 12 | 2 | 5 | 5 | 0 | 2 |
| TOTAL EUR | 360 | 154 | 143 | 11 | 206 | 199 | 7 | 18 |
Policy
In 2021, EUR took an important step in improving the training and supervision of PhD students by establishing PhD policies that apply to the entire university. The 'UNL healthy practice document' is one of the sources of inspiration for the policy agreements. It includes the number of supervisors, enrolment and embedding of PhD students, and support in various areas. In 2021, further development of the PhD policy was started, for example for the group of outside PhD students.
Convergence
Convergence TU Delft, Erasmus University Rotterdam and Erasmus MC
Climate change and urbanisation, the impact of digitisation and the increased role of technology, and the sustainability of our healthcare system: these are complex societal challenges of our time. These issues call for ground-breaking scientific insights with solution approaches. That's why TU Delft, Erasmus University and Erasmus MC have been joining forces since 2019. Within this collaboration, knowledge and skills in alpha, beta, gamma, medical, engineering and construction sciences converge, creating new research and education infrastructures and possibly even new disciplines.
In 2021, the three pillars of convergence - Resilient Delta, Health & Technology and Al, Data & Digitisation - began implementing their strategic plans, finding collaborative partners and further connecting scientists. Two new programmes were also launched from the bottom up. One of these is the Pandemic and Disaster Preparedness Centre (PDPC),which aims to ensure we are better prepared for new virus outbreaks and disasters. The PDPC was opened in May 2021 in the presence of the Mayors Ahmed Aboutaleb of Rotterdam and Marja van Bijsterveldt of Delft. The most recent programme is Healthy Start. It was established by three enthusiastic scholars who are researching ways to improve opportunities for children and young adults to reach their full developmental potential. The ultimate goal of Convergenceis to create societal impact by working together across disciplines and institutions, with the region as a living lab. A good example of this co-creative approach is the Healthy Startconference that took place in November. At this congress, scholars from the social, medical and technical fields came together with community partners working with children and youth to contribute to equality for youth.
The three Convergenceinstitutions not only achieved substantive results, but also grew closer together in operational terms. This is founded on the Framework Agreement signed in 2021, which lays down further arrangements for cooperation. Coordinated from the Convergence Office, work groups were set up in various fields (HR, finance, legal, communication, data and IR public affairs) in order to remove barriers and facilitate collaboration. Because of the growing enthusiasm within the institutions, the Convergence Executive Board  decided to double the available budget for 2022. In addition, investments were made in communication. This is how the Convergencewebsite was launched. Also, the first Convergence Square opened in Erasmus MC. This is a meeting space where colleagues from the three institutions can collaborate and meet face to face. Both political and business communities showed a great deal of interest in the Convergence in 2021,which was expressed in various working visits.
LDE Collaboration
The university works closely with the two other Universities in the province of South Holland: Delft University of Technology (TUD) and Leiden University (LEI). This partnership is referred to as LDE Universities.
In Medical Delta,the TUD, LEI and EUR work with Leiden University Medical Centre (LUMC) and Erasmus Medical Centre (Erasmus MC) on technological solutions for sustainable care. This is done in conjunction with regional educational institutions and companies.
Research
In 2019, the LDE strategy for the period through 2024 was determined. This also identified a number of profiling themes that are the basis for further fulfilment of the joint ambition to contribute as a regional knowledge partner to the social and economic agendas of regional and local stakeholders. The profiling themes are: Digital Society, Healthy Society, Inclusive Society and Sustainable Society. Six so-called LDE Centresare active in those fields: Centre for BOLD Cities, Centre for Education and Learning, Centre for Frugal Innovation in Africa, Centre for Global Heritage and Development, Centre for Governance of Migration and Diversity and the Centre for Sustainability. In addition, the LDE Universities are collaborating in the research programme Port City Futures.
Other developments and results in 2021
In 2021, four projects were supported within the LDE Research Development Support initiative newly established in 2020. At the three institutions, virtually all disciplines are present to develop successful trans-disciplinary research proposals, with or without community partners. LDE Research Development Support encourages the formation of interdisciplinary consortia for large, complex grant applications. Meanwhile, one of the supported projects succeeded in obtaining a NWO grant: the ELSA lab Al for Multi-Agency Public Safety issues (AI-MAPS).
LDE Cyber Security programme developed a new Leiden-Delft-Erasmus Cyber Security PhD programme. This four-year doctoral programme links the scientific knowledge of the three universities with the experience of partners Ahold Delhaize, the Ministry of Infrastructure and Water Management and the Telecom Agency. The goal of this collaboration is to gain a broad understanding of the governance, risks and costs of cyber security and to find multidisciplinary solutions.
In June 2021, LDE Universities and NL Space Campus launched the collaborative programme Space for Science and Society. This new partnership aims to stimulate education, research and innovations in aerospace and to achieve scientific, technological and societal breakthroughs.
In September, the Medical Delta and LDE launched a collaborative programme Healthy Society: an interdisciplinary initiative focused on health and prevention. Many pressing current and future societal health developments converge in the programme Healthy Society. They require a new and integrated approach, underpinned by science. The cooperation partners LDE and Medical Delta,with its affiliated universities, UMCs and colleges, have been looking for new opportunities since the fall of 2021 to illuminate the theme Healthy Societyfrom a common perspective in education, research and innovation.
The Centre for Frugal Innovation in Africa developed into the International Centre for Frugal Innovation (ICFI). The new name reflects the organisation's progress and ambitions. Together with an international network, the ICFI focuses on local projects with local partners. The name change is part of the centre's transition and is aimed at gathering and disseminating knowledge with researchers around the world. Thus, the added value of ISFI is enhanced.
The Centre for BOLD Citieshas published important research on security and privacy in the Smart City in a publicly available e-Book. This sets out the results of the Managing Privacy in the Smart Cityresearch project. The publication also includes recommendations for municipal authorities. Examples of new technologies in the field of security, such as WhatsApp groups for citizens, Spitter for street enforcers and Data map for policy makers, are given. It also identifies both citizens' and administrators' unfamiliarity of new technologies in public spaces.
Partnerships in South Holland - Impact
The collaboration between the three South Holland universities in the field of medical technology is taking shape not only in Medical Delta, but also in Cleantech Delta and The Hague Security Delta. LDE's thematic centres also work with regional partners.
In principle, the collaboration of the three South Holland universities and the relevant communication will be conducted under the name LDE, Leiden-Delft-Erasmus Universities. On the other hand, the governanceremains a matter for the individual institutions. LDE is more than just the six centres and the research centre: the essence is the totality of the collaborations in South Holland. That is still the case even if only two of the three universities participate. The communication strategy will provide more clarity on this subject. In this context, the Board of Trustees decided to present LDE under that name.
The LDE Multi-Year Plan 2020-2024 and the LDE Bureau Work Plan 2021 provide direction for spearheading the implementation of the LDE strategy. For the Growth Agenda of the Province of South Holland, LDE is involved in themes such as Artificial Intelligence, Quantum Technology and Space for Science and Society. This is always based on the principle that the LDE universities are among the Dutch scientific leaders in many disciplines, are largely complementary, and operate in a highly urbanised region with strong integration of alpha, beta, gamma and technology.
InnovationQuarter (IQ)is the South Holland development company co-founded by the three universities. EUR is a co-shareholder of IQ. Since November 2016, IQ has been an official partner of StartupDelta,which has continued under the name TechLeap.nl since July 2019.
Furthermore, the LDE Universities are represented in the Economic Board Zuid-Holland (EBZ).
Young Erasmus Academy
The Young Erasmus Academy (YEA)is a network of young scholars, founded in April 2013 at Erasmus University Rotterdam. Young Erasmushad 22 members in 2021, drawn from the various scientific disciplines within the university. This network strengthens interdisciplinary cooperation within the university and provides both solicited and unsolicited advice to the Board. Through lectures and research projects, YEA seeks to connect with society in order to contribute to EUR's social impact.
Three new members were appointed in 2021.
Launch of the 'UNIC4ER' research programme of the European University of Post-Industrial Cities (UNIC)
On 1 September, the 'UNIC4ER' research programme of the European University of Post-Industrial Cities (UNIC) was launched. Coordinated and led by EUR, the eight UNIC partners [1] are working together on a research programme focused on Engaged Research. This is a research method that emphasises close collaboration with external partners such as the City of Rotterdam, city organisations, businesses and citizens. This form of research contributes to the democratisation of scientific research by deepening our collaboration with urban residents. Our universities aim to increase their impact with its research and to make a concrete contribution to addressing urban issues in post-industrial cities.
The programme aims to support new and existing Engaged Researchinitiatives and build a strong collaborative relationship between researchers at the eight UNIC partner universities. This is based on:
defining a joint research strategy, Engaged Research;
setting up Engaged Research research infrastructure, such as seed funding and local roadmaps with our cities, and a Post-Industrial Transitions Academy;
setting up a Community of Research Excellence,with various opportunities for researchers to receive methodological training and attend introductory activities.
promoting open science principles through an Engaged Research Platform at the UNIC Virtual Campus.
In the first six months of the Horizon-funded programme, the UNIC partners prepared all project management plans and promoted the programme within our faculties and relevant departments. Synergies were also sought with strategic projects and initiatives. Examples include Evaluating Societal Impact and Design Impact Platform and Impact at the Core. Strategic embedding with Erasmus Research Services is also explored.
On 1 September, the 'UNIC4ER' research programme of the European University of Post-Industrial Cities (UNIC) was launched. Coordinated and led by EUR, the eight UNIC partners are working together on a research programme focused on Engaged Research. This is an impact-driven research method that emphasises close collaboration with external partners such as city organisations, businesses, citizens and the municipal authorities.
This form of research contributes to the democratisation of scientific research by deepening our collaboration with urban residents. EUR, together with European partner universities, strives for greater impact with this programme. That impact comes from research and concrete contributions to addressing urban issues in post-industrial cities. Close partnerships are being sought with other EUR initiatives, each of which is already working closely with the city. Examples are the Convergence and the Erasmus Initiatives.
The programme aims to support new and existing Engaged Research initiatives and build a strong collaborative relationship between researchers at the eight UNIC partner universities. This is based on:
defining a joint research strategy, Engaged Research;
setting up Engaged Research research infrastructure, such as seed funding and local roadmaps with our cities, and a Post-Industrial Transitions Academy;
setting up a Community of Research Excellence, with various opportunities for researchers to receive methodological training and attend introductory activities.
promoting open science principles through an Engaged Research Platform at the UNIC Virtual Campus.
In the first six months of the Horizon-funded programme, UNIC partners prepared all project management plans, and the programme was promoted within faculties and relevant departments.
Synergies were also sought with strategic projects and initiatives. Examples include Evaluating Societal Impact, Designing Impact Platformand Impact at the Core. Strategic embedding with Erasmus Research Services  is also explored.
[1] Koç University (Turkije), the Ruhr University Bochum (Duitsland), the University College Cork (Ierland), the University of Deusto (Spanje), the University of Liège (België), the University of Oulu (Finland) and the University of Zagreb (Kroatië).
Examples
Railroad track optimisation
NS is by far the largest railroad company in the Netherlands, transporting around 1.3 million passengers every working day in 2019. Since rail transport produces hardly any emissions, NS plays an important role in the field of sustainable mobility in the Netherlands. It is important for NS to efficiently provide a high-quality rail system. Optimisation of the logistics process plays an important role in this context. The operational challenges at NS raise several challenging scientific questions.
The common interests of NS and Erasmus School of Economics (ESE)have resulted in a long-term collaboration between NS and the Econometrics capacity group. Through the NS-ESE collaboration, several PhD students have conducted academic research on issues that will affect NS operations in the future. One example is Thomas Breugem's research on train drivers' and conductors' schedules, in which he studied the trade-off between efficiency, fairness and job attractiveness. In addition to a publication in Management Science(Breugem et al., 2021), this research led to a pilot study at his home base in Amersfoort. During this pilot, conductors' schedules were created using a scheduling tool developed during this research project. The planning tool not only reduced the time needed for scheduling by a factor of three, but also produced very high-quality schedules, according to the planners and managers.
Sources: T. Breugem (2020), 'Crew Planning at Netherlands Railways: Improving Fairness, Attractiveness, and Efficiency,' PhD dissertation. and T. Breugem, T. Dollevoet and D. Huisman (2021), 'Is Equality Always Desirable? Analysing the TradeOff between Fairness and Attractiveness in Crew Rostering', Management Science.
Menstrual health and gender equity
Maria Carmen Punzi is a third-year PhD researcher at the Erasmus Research Institute of Management (ERIM),lecturer and activist. With her research, which is interdisciplinary in scope from the beginning and partially funded by the Erasmus Initiative on Dynamics of Inclusive Prosperity,she explores the important role menstrual health can play in achieving gender equality.
She brings together the literature on social entrepreneurship, social movements and institutional change. She examines how different stakeholders deal with menstrual health and how menstrual health affects women's opportunities and health and women's inclusive participation in society. In doing so, Punzi translates insights from her academic work into the media debate and projects aimed at social change. She contributes to the debate in the Dutch media about menstrual leave and free menstrual products. Her input was addressed during question time in the Dutch House of Representatives. Since spring 2021, in collaboration with the Erasmus University Council and Erasmus Verbindt, she has successfully advocated for funding for a one-year project that provided free menstrual products at Erasmus campus. The Board of Trustees of Erasmus University is currently considering this initiative with a view to long-term structural integration and funding.
In December 2021, she won the RSM Positive Change Award. She is currently setting up training on menstrual health for students and staff, both within EUR and beyond.
When Disaster Meets Conflict
When Disaster Meets Conflict (Discord), a project of the International institute of Social Studies (ISS), examined the relationship between humanitarian aid and disaster management. It analysed how governmental, non-governmental and humanitarian actors in three conflict settings (high-low-medium, and post-conflict settings) respond to disasters in order to understand how the type of conflict affects communities and the assistance provided to those affected. Using an international panel of thirty experts (half of whom are from the southern hemisphere) and case studies from nine countries, the project examined the challenges, experiences and success factors for aid in each of the three settings. It also sought to understand how the politicisation of disaster management affects the legitimacy and powers of management actors and how these are interrelated. The research team sought not only scientifically robust research, but also social relevance and engagement. The team produced several research briefs, participated in several international advisory and collaborative groups, events and conferences, and wrote over a hundred opinion pieces and blog entries for a wider audience. For more information, please refer to: https://www.iss.nl/en/research/research-proiects/when-disaster-meets-conflict
TRESCA project partners with a YouTube channel that lies to 17 million people
Animation studio Kurzgesagt-ln a Nutshelladmits in a video to his seventeen million YouTube followers that he lies to his audience. In the video, the major science channel - which is dedicated to explaining complex scientific topics in short, illustrated, animated videos - examines science communication and its challenges. The video is a result of a collaboration with the TRESCA project. The TRESCA project is coordinated by the researchers Jason Pridmore, Marina Tulin and Tessa Oomen of the Erasmus School of History, Culture and Communication (ESHCC). It is designed to build trust in science by improving communication by scientific researchers, journalists and policy makers.
What can we do when we see science and facts being questioned? The TRESCA project is developing a Massive Open Online Course (MOOC)to explore this question directly. The current abundance of information makes it difficult for the public to decipher which information is true and which is not. In this MOOC, students discover how public trust is gained and how different people and organisations can earn and keep it through improved communication practices.
Source: https://mveur.co.uk/en/eshcc-emDlovee/news/tresca-Droiect-collaborates-youtube-channel-thats-lvina-17-million-people
Healthcare systems and insurance
In the context of the Erasmus initiative 'Smarter Choices for Better Health', the action line Value-Based Health Care (VBHC)has been set up. The goal is to provide a scientific basis for moving to VBHC, a relatively recent, multi-faceted approach that aims to optimise patient outcomes at the lowest possible cost. To achieve this goal, methods are being developed and assessed within the action line to measure value and manage for value, with the ultimate goal of contributing to better care in a financially sustainable way.
In 2021, significant progress has been made by consistently combining insights from the medical, epidemiological, statistical and economic fields. This progress is reflected in publications in leading scientific journals in the field of measurement methods (see for example here, here, here and here) and managing on value (see for example here and here). Additionally, consistent efforts have been made to disseminate research findings and ongoing projects to a wider audience through blogs and interviews on news websites (see e.g. here), publications in professional journals (see e.g here), active participation in relevant networks (see for example here, here and here) and presentations at national and international conferences. It is worth mentioning that all research projects conducted under the VBHC action line involve active collaboration with external social partners, including hospitals, health insurers, government agencies, patient organisations and clinical registries.
Attention to sexual street harassment remains necessary
As many as 47% of Rotterdam women experience sexual harassment on the street, according to the report 'Sexual Street Harassment in Rotterdam 2016-2020' by Tamar Fischer, associate professor of Criminology, and Gabry Vanderveen, associate professor of Criminology, of Erasmus School of Law (ESL). Intensive training for enforcers has led to positive changes, but many women still prefer not to be on the street in the evening or deliberately dress differently then.
The report shows that harassing behaviour is virtually unchanged from the previous survey of 2016. However, much has changed in the awareness of sexual street harassment. Society clearly disapproves. A positive change is also seen in the attitudes of enforcement professionals and private sector security guards.
This report was commissioned by the Directorate of Safety of the City of Rotterdam in collaboration with the Knowledge Workshop Liveable Neighbourhoods. The report generated media attention, including in the current discussion on social interaction. Moreover, this study was often referenced during the introduction of the new moral law.
More information can be read in the report.
Erasmus Rotterdam Research Centre (ERRC)
The ERRC aims to promote the development of the concept of Erasmian values at EUR, to stimulate and enable research on the historical figure Erasmus of Rotterdam, and thus to discuss and reflect on how our values can guide us in approaching current social issues. To achieve these goals, the ERRC established a Chair in Erasmian Values (Ronald van Raak) and created a PhD position (Sanne Steen) to research the historical appropriation of Erasmus of Rotterdam. Other Erasmus School of Philosophy (ESPhil) persons involved are Ticia Herold (Drs.) and Prof. Han van Ruler. Together, they have initiated a series of scholarly meetings for academic research on Erasmus. They are currently programming new events and workshops related to Erasmus and the Erasmian values with students, scholars, staff and alumni of EUR as well as with pupils, students and other parties from outside EUR.
How to strengthen multiple democracy at the neighbourhood level in Rotterdam?
To arrive at an answer to the above question, public administration experts from the Erasmus School of Social and Behavioural Sciences (ESSB)made a learning evaluation for the City of Rotterdam. This evaluation served to determine whether the current public administration model contributes to a vital democracy in Rotterdam. The study shows that the current area bodies are not adequately positioned and equipped to really influence matters. The researchers therefore advise placing the district agenda much more centrally than is currently the case and applying innovative forms of participation around it. However, the City of Rotterdam's shift towards a more district-oriented and task-driven approach also benefits from a vital area democracy that is sufficiently equipped to give voice to and reinforce opposition. The researchers argue that the public administration model benefits from stability and continuity. Therefore, they recommend not to change course completely (again), but rather to adjust and build on what has already been achieved. The recommendation here is to engage in dialogue with all stakeholders to review how the model should be adjusted. The study was conducted by   Arwin van Buuren, (prof. dr.) Ingmar van Meerkerk (dr.) Floris Hager (drs.) Wijnand Kerklaan (drs.) Marn van Rhee (drs.) (Department of OBI, City of Rotterdam) Lucy van Eck (drs.) and Karlijn Schipper (drs.) (Drift/EUR). This is a great example of how EUR can have a social impact on the city of Rotterdam. Partly based on this advisory memorandum, a decision will be made on the public administration model for the new term of office (2022-2026). For more information, please refer to: https://www.eur.nl/essb/nieuws/versterk-de-meervoudiae-democratie-rotterdam-op-wijkniveau.